M. Sc. Claudius Pott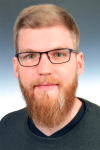 Wissenschaftlicher Mitarbeiter

Ratzeburger Allee 160
23562 Lübeck
Building 64, 1. OG, Room 041
2021
Claudius Pott, Philipp Jungklass, David Jacek Csejka, Thomas Eisenbarth and Marco Siebert,
Firmware Security Module: A Framework for Trusted Computing in Automotive Multiprocessors
,
Journal of Hardware and Systems Security
, 2021.
Jan Wichelmann, Sebastian Berndt, Claudius Pott and Thomas Eisenbarth, Help, my Signal has bad Device! Breaking the Signal Messenger's Post-CompromiseSecurity through a Malicious Device in DIMVA , 2021.
2020
Sebastian Berndt, Jan Wichelmann, Claudius Pott, Tim-Henrik Traving and Thomas Eisenbarth,
ASAP: Algorithm Substitution Attacks on Cryptographic Protocols
,
IACR Cryptol. ePrint Arch.
, vol. 2020, pp. 1452, 2020.