M. Sc. Ida Bruhns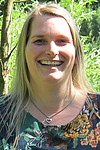 Wissenschaftliche Mitarbeiterin

Ratzeburger Allee 160
23562 Lübeck
Building 64, 1. OG, Room 050
2021
Samira Briongos, Ida Bruhns, Pedro Malagón, Thomas Eisenbarth and José Manuel Moya,
Aim, Wait, Shoot: How the CacheSniper Technique Improves Unprivileged Cache Attacks
in
IEEE European Symposium on Security and Privacy, EuroS&P 2021, Vienna, Austria, September 6-10, 2021
, IEEE, 2021. pp. 683--700.
2019
Saad Islam, Ahmad Moghimi, Ida Bruhns, Moritz Krebbel, Berk Gulmezoglu, Thomas Eisenbarth and Berk Sunar,
SPOILER: Speculative Load Hazards Boost Rowhammer and Cache Attacks
in
28th USENIX Security Symposium (USENIX Security 19)
, Santa Clara, CA: USENIX Association, 2019. pp. 621--637.